Benin
Dr. Thomas G. Walsh, UPF Secretary General
Cotonou, Benin
July 24, 2006
Mother Moon and Hyo Jin arrived in Cotonou, Benin around 10:00 AM on July 23, and were greeted by UPF leaders, Rev. Cho, Rev. Adama Doumbia, Rev. Paterne Jinsou and Rev. Hee Sun Ji, as well as a delegation of Ambassadors for Peace and government representatives who provided a police escort.
Benin is one of almost 20 French-speaking, African countries, located in West Africa, on the Atlantic coast.
Immediately after her arrival TM traveled straight to a major orphanage in Cotonou. She met with the administrators and with the children and, on behalf of the Universal Peace Federation and the International Relief Friendship Foundation, offered $10,000 for the children's education. There is a growing population of African children who lost their parents due to untimely deaths from HIV/AIDS, and in some cases, civil war.
The main event was held at the Palais de Congres in Cotonou, a large, beautiful, very new conference hall situated right on Benin's Atlantic coastline. Two thousand two hundred people gathered; there was standing room for an audience that included government ministers, members of parliament, religious leaders, civic leaders, and many others. Professor Yosou Dovo, a long-time associate of the Professors World Peace Academy, presided over the pre-program.
Hyo Jin read with great dignity and passion. In reading the passages describing God's heart of agony as a result of the Fall of Adam and Eve, and the difficulty of God's providence of restoration, he fought to hold back his tears, but to no avail; though he kept reading, he could not hold back his tears. This made a profound impact on everyone, as his own reading of the speech seemed to manifest comprehensively the realms of heart of creation, fall, restoration and the era after the coming of heaven.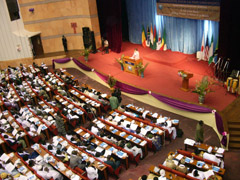 By the time Mother Moon was welcomed to the stage, the audience was completely ready to receive her, and when she was welcomed to the stage, the audience erupted on deafening cheers and applause. She had a hard time convincing the audience that she wanted them to cease their applause and take their seats, but after a couple of minutes they took their seats and quietly and respectfully listened to her address. She was radiant, joyful and focused on imparting the content for the sake of the nation's future.
Following the main event Rev. Chung Hwan Kwak hosted a dinner, and several participants offered their reflections:
Hon. Kogblevi Aziadome, a former government minister: "I had such a deep impression from meeting Mother Moon and Hyo Jin. I felt some kind of deep, extraordinary illumination. When Mother Moon entered the room, she had to force us to stop our applause and cheers. We just couldn't contain our joy, and we wanted to give glory to God. She and Hyo Jin were so dynamic, marvelous. I hope Rev. Kwak can share the secret of how they can endure this tour each day, and Mother Moon looks so young and as fresh as if she just started."
Hon. Davo, MP: " I was appointed as an Ambassador for Peace today. I need so much education, and this was a good beginning. When Mother Moon spoke I was reminded of the importance of my family and the need to love my family. This is the key to peace."
His Majesty Eglacoturt II, a King in Benin and Head of the Association of Traditional Rulers in Benin: "I did not expect such a fantastic event. All the people of Benin are rejoicing because of this event, including all the traditional chiefs. All the people of Benin need to meet Mother Moon and learn from her words."
The King of the Oguna people: "We need to practice exchange marriage and fidelity. In our community adultery is forbidden and one who commits adultery is banished. From Mother Moon I saw a bright light emanating forth. Also I know that True Father is not simply the King of Peace. He is above kings."
Martin-Luc Hounkianrun, attorney: "This was not only an event, it was an advent. With true love and true family we can achieve true peace. We need to restore the family, and then we can make Benin the 'City of Peace.' Also, we must unify the political leaders and the traditional chiefs."
Grace Lawani Gangbo: "When I saw the Queen of Peace, I saw the perfume of true love and peace spreading everywhere around them. Why is Benin so poor? It means we are missing something. We need true love and peace. We women of Benin need to make harmony in this nation, particularly among the religions. Rev. and Mrs. Moon give hope to humanity."
A government minister who had spent ten years in prison: "When I met Father Moon some years ago, I saw his aura that radiated. I also saw this today. They are exceptional beings, great masters. God sends such a person, like an avatar, from time to time to save this world. When the Lord comes it is time for us to change. Rev. Moon is the best person to bring the solutions to the world's problems. I, like him, met God in prison."
In the morning, Mother Moon spoke to people who had gathered from Ghana, Niger, Congo, Congo Brazzaville, Burkina Faso and Togo. "Although English is widely used, I also know French are very proud of their language," she said. "In order to unite those proud people, parents must come." She urged her audience to read and spread the messages she and her son gave, to study Korean, and to practice true love on earth in preparation for the eternal life in the spiritual realm.
"I visited an orphanage here," she continued. "It reminded me of Korea after the war. In the 50's in Korea, after the war, we had nothing. Even in that miserable environment, Father never faltered. In Pusan, he built a hut so small that not even two people could fit in there easily. I saw makeshift tents and crumbled houses on the streets of Benin. In Korea many young people went out to the countryside to teach during their school vacations. I see that African countries are like Korea after the war. You can develop quickly and become even greater than Korea. I feel so happy when I see Africans."
She referred to the Bible description of Canaan as a land of honey and milk. Israel is mostly a desert, but they have cultivated that land and made it fruitful. "Africa has rich soil, rain, and potential for development," she said. "Cultivate your heart for loving nature and not a greedy heart for immediate return. In this way you can develop this country. May God's blessing be upon your country."
About 40 beautiful African youngsters come forward and sang in Korean, "We love you, true mother." Mother Moon named the choir Sun Hak Benin and challenged them to train for international competition. Hyo Jin sang, "If I can dream."